GOODSMILE ONLINE SHOP Purchase Bonus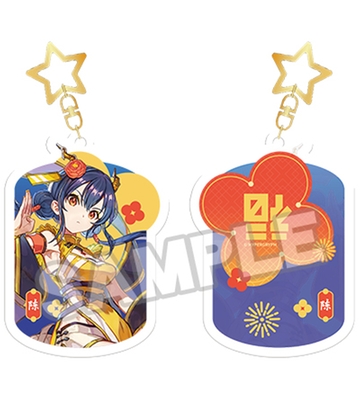 Preorders of Ch'en: Spring Festival VER. from the GOOD SMILE ONLINE SHOP will include a Acrylic Keychain as a bonus!
Product Details
Doctor, you're in a good mood.
From the popular smartphone game "Arknights" comes a scale figure of Ch'en in a special outfit for the Lunar New Year.
The outfit, a combination of both comfort and beauty, is a perfect fit for the dignified Ch'en!
The figure's base, similar to the one included with Nian: Spring Festival VER., features an upside-down "fu" character, a symbol meant to bring good fortune to every Doctor in the new year!
Her lantern can also be displayed lit up. Be sure to add her to your collection, and welcome the new year with Ch'en!
Display with Nian: Spring Festival VER. (sold separately) for an even more exciting new year!
*This product does not come with a light bulb. please install a commercially available light bulb in the lantern part to use the light-up effect.
© 2017-2023 HYPERGRYPH. All rights reserved.
Order Period
Preorders can be placed from 24th January 2023 (Tue) from 12:00pm JST until 9th March 2023 (Thu) at 12:00pm JST.
Price
- A maximum of 3 of this product are available per person. Orders that include more than this limit will be cancelled.
Specifications
Name
Ch'en: Spring Festival VER.
Release Date
Jan 2024
Announce Date
Jan 24, 2023
Manufacturer
Good Smile Arts Shanghai
Series
Arknights
Product Type

Bonus Included
Cannot be Combined

Specifications
Painted plastic 1/7 scale complete product with stand included. Approximately 250mm in height.
- In the event order limits have been met, the pre-order period will end before the closing date.
- Payment accepted via credit card and PayPal. Payment will be processed as soon as the items are in stock, generally 2-3 weeks prior to the shipment date.
- Payment will be charged in either American Dollars (USD), Euros (EUR) or Japanese Yen (JPY) per your selection. Contact PayPal and/or your credit card company regarding currency exchange rates.
- You may be charged additional fees such as import tax when making an overseas purchase. Please consult your local customs office for more information.
- As outlined in the user guide, we do not accept cancellations. Please consider your purchase carefully before ordering.
- Should you have any questions, please contact customer support. English and Japanese support available.

* Please read the usage guide before purchase.