GOODSMILE ONLINE SHOP Purchase Bonus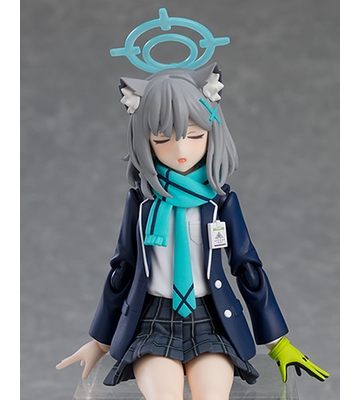 Preorders of figma Shiroko Sunaookami from the GOOD SMILE ONLINE SHOP will include a Blushing Face with Closed Eyes as a bonus!
Product Details
"So long as you're prepared, there should be nothing to worry about. It's a simple rule to follow."
From the popular game "Blue Archive" comes a figma of Shiroko Sunaookami, second-year student at Abydos High School and member of the Countermeasures Council!
· She comes with two face plates—an expressionless face and a blushing face.
· Her assault rifle, drone, bag (with interchangeable back strap) and a sitting skirt part with parts to display her kneeling on either leg are included as optional parts.
· The assault rifle's magazine, scope and suppressor are removable and the stock is articulated.
· A magazine part that can be mounted on her bag is included, allowing you to attach her assault rifle to her bag.
· A Masked Mizugi Gang masked head part is included for recreating the game's memorable bank robbery scene.
· A large size articulated figma stand is included to display the figma in a variety of poses.
© 2021 NEXON KOREA Corp. & NEXON Games Co., Ltd. All Rights Reserved.
Order Period
Preorders can be placed from 22nd April 2022 (Fri) from 12:00pm JST until 2nd June 2022 (Thu) at 12:00pm JST.
Price
- A maximum of 3 of this product are available per person. Orders that include more than this limit will be cancelled.
Specifications
Name
figma Shiroko Sunaookami
Release Date
Dec 2022
Announce Date
Apr 22, 2022
Manufacturer
Max Factory
Series
Blue Archive
Product Type

Bonus Included
Cannot be Combined

Specifications
Painted plastic non-scale articulated figure with stand included. Approximately 145mm in height.
- In the event order limits have been met, the pre-order period will end before the closing date.
- Payment accepted via credit card and PayPal. Payment will be processed as soon as the items are in stock, generally 2-3 weeks prior to the shipment date.
- Payment will be charged in either American Dollars (USD), Euros (EUR) or Japanese Yen (JPY) per your selection. Contact PayPal and/or your credit card company regarding currency exchange rates.
- You may be charged additional fees such as import tax when making an overseas purchase. Please consult your local customs office for more information.
- As outlined in the user guide, we do not accept cancellations. Please consider your purchase carefully before ordering.
- Should you have any questions, please contact customer support. English and Japanese support available.

* Please read the usage guide before purchase.