GOODSMILE ONLINE SHOP Purchase Bonus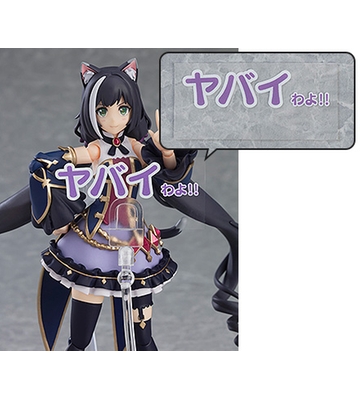 Preorders of figma Karyl from the GOOD SMILE ONLINE SHOP will include a Phrase Plate as a bonus!
Product Details
Wh-what's your problem? Want me to kill you?!
From the popular smartphone game "Princess Connect! Re: Dive" comes a figma of the sharp-tongued Gourmet Guild member, Karyl!
· Using the smooth yet posable joints of figma, you can create a variety of poses and scenes.
· A flexible plastic is used for important areas, allowing proportions to be kept without compromising posability.
· She comes with four face plates including a standard face, a shocked pale face, an excited face and a blushing face.
· Optional parts include her Chaos Grimoire and magic circle effect sheets, allowing you to create intense combat scenes in figma form.
· An articulated large size figma stand is included to display the figma in a variety of poses.
Order Period
Preorders can be placed from 21st January 2022 (Fri) from 12:00pm JST until 3rd March 2022 (Thu) at 12:00pm JST.

*Due to the limit to the amount of products that can be produced at our production facilities each month, a preorder limit has been placed on this item.
*Preorders for this item may close during the preorder period if the preorder limit is reached.
*In the event that the preorder limit is reached and preorders are closed during the preorder period, preorders may be opened again for an additional preorder period in order to accommodate demand. Products preordered during an additional preorder period will be produced following products made for the initial release, and as such will be released at a later date.
Price
- A maximum of 2 of this product are available per person. Orders that include more than this limit will be cancelled.
Specifications
Name
figma Karyl
Release Date
Oct 2022
Announce Date
Jan 21, 2022
Manufacturer
Max Factory
Series
Princess Connect! Re: Dive
Product Type

Bonus Included
Cannot be Combined

Specifications
Painted plastic non-scale articulated figure with stand included. Approximately 140mm in height.
- In the event order limits have been met, the pre-order period will end before the closing date.
- Payment accepted via credit card and PayPal. Payment will be processed as soon as the items are in stock, generally 2-3 weeks prior to the shipment date.
- Payment will be charged in either American Dollars (USD), Euros (EUR) or Japanese Yen (JPY) per your selection. Contact PayPal and/or your credit card company regarding currency exchange rates.
- You may be charged additional fees such as import tax when making an overseas purchase. Please consult your local customs office for more information.
- As outlined in the user guide, we do not accept cancellations. Please consider your purchase carefully before ordering.
- Should you have any questions, please contact customer support. English and Japanese support available.

* Please read the usage guide before purchase.
- A maximum of 2 of this product are available per person. Orders that include more than this limit will be cancelled.