GOODSMILE ONLINE SHOP Purchase Bonus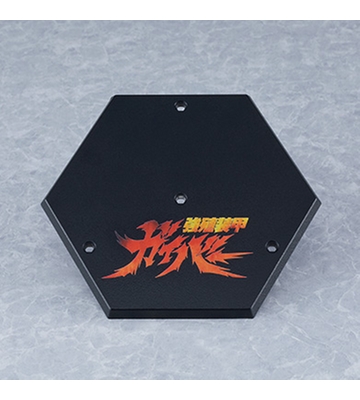 Preorders of figma Guyver I: Ultimate Edition from the GOOD SMILE ONLINE SHOP will include a Large-Size figma Base (Logo Design) as a bonus!
Product Details
Guyver the Bioboosted Armor back in figma form!
From the manga series "Bio Booster Armor Guyver" comes a new figma of Guyver I for figma's 15th anniversary, entirely reviewed and approved by Yoshiki Takaya himself.
· Using the smooth yet posable joints of figma and dedicated Guyver I joint parts, you can create a variety of poses from the series.
· A flexible plastic is used for important areas, allowing proportions to be kept without compromising posability.
· The chest armor can be opened and closed. Special consideration has been taken in creating the articulated parts, allowing you to recreate action-packed scenes from the series.
· In addition to an assortment of hand parts, the High Frequency Wave-Vibration Sword, Unit G and a Sho Fukamachi face part based on the cover of the 5th volume of the manga are included.
· An articulated figma stand is included to display the figma in a variety of poses.
Order Period
Preorders can be placed from 24th March 2023 (Fri) from 12:00pm JST until 11th May 2023 (Thu) at 12:00pm JST.
Price
- A maximum of 3 of this product are available per person. Orders that include more than this limit will be cancelled.
Specifications
Name
figma Guyver I: Ultimate Edition
Release Date
Dec 2023
Announce Date
Mar 24, 2023
Manufacturer
Max Factory
Series
Bio Booster Armor Guyver
Product Type

Bonus Included
Cannot be Combined

Specifications
Painted plastic non-scale articulated figure with stand included. Approximately 160mm in height.
- In the event order limits have been met, the pre-order period will end before the closing date.
- Payment accepted via credit card and PayPal. Payment will be processed as soon as the items are in stock, generally 2-3 weeks prior to the shipment date.
- Payment will be charged in either American Dollars (USD), Euros (EUR) or Japanese Yen (JPY) per your selection. Contact PayPal and/or your credit card company regarding currency exchange rates.
- You may be charged additional fees such as import tax when making an overseas purchase. Please consult your local customs office for more information.
- As outlined in the user guide, we do not accept cancellations. Please consider your purchase carefully before ordering.
- Should you have any questions, please contact customer support. English and Japanese support available.

* Please read the usage guide before purchase.
- A maximum of 3 of this product are available per person. Orders that include more than this limit will be cancelled.