GOODSMILE ONLINE SHOP Purchase Bonus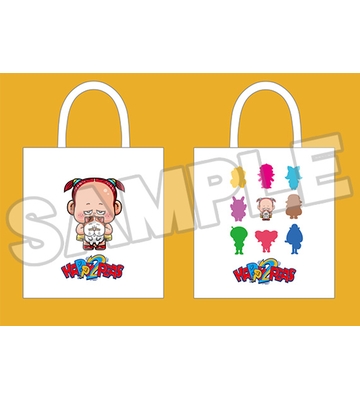 Preorders of HAPPY2PEAS KINO-chan and chikuwa Big Size from the GOOD SMILE ONLINE SHOP will include a HAPPY2PEAS Tote Bag as a bonus!
Product Details
ALRIGHT! LET'S COMBINE! Presenting a miraculous new combining action figure for Tengen Toppa Gurren Lagann's 42th anniversary!
The setting is PEAS PARK, a park in the very middle of a certain town. It is a popular park that is always crowded with people and their pets on the weekends. There's a rumor about town that the pets at the park looks exactly like their owners... Popular designer of "BUDOG COLLECTION" and "bitter melon", 460 (AKA Hideki Shiroma), has teamed up with Good Smile Arts Shanghai to bring HAPPY2PEAS to the world. We hope this series of original pets and their owners who look just like them will remind people of the species-transcending love shared between humans and animals.
The first in the series is KINO, a shy 6-year-old girl who isn't great at making friends. One day, KINO's mother gifted her an Exotic Shorthair cat named chikuwa. At first they were wary of each other, but after watching a horror movie together they found themselves holding each other tight out of fear and became best friends.
After that, the two of them became inseparable, and their mannerisms and faces began to gradually look just alike. KINO goes out to PEAS PARK with chikuwa in the basket of her tricycle, having been given the courage to go out by her very best friend. There she waits to make even more new friends.
©DOKUTOKU460 INC./2021 Good Smile Arts Shanghai
Order Period
Preorders can be placed from 1st April 2022 (Fri) from 12:00pm JST until 19th May 2022 (Thu) at 12:00pm JST.

*Due to the limit to the amount of products that can be produced at our production facilities each month, a preorder limit has been placed on this item.
*Preorders for this item may close during the preorder period if the preorder limit is reached.
*In the event that the preorder limit is reached and preorders are closed during the preorder period, preorders may be opened again for an additional preorder period in order to accommodate demand. Products preordered during an additional preorder period will be produced following products made for the initial release, and as such will be released at a later date.
Price
- A maximum of 3 of this product are available per person. Orders that include more than this limit will be cancelled.
Specifications
Name
HAPPY2PEAS KINO-chan and chikuwa Big Size
Release Date
Aug 2022
Announce Date
Apr 01, 2022
Manufacturer
Good Smile Arts Shanghai
Series
HAPPY2PEAS
Product Type

Bonus Included
Cannot be Combined

Specifications
Painted non-scale soft vinyl figure. Approximately 130mm in height.
- In the event order limits have been met, the pre-order period will end before the closing date.
- Payment accepted via credit card and PayPal. Payment will be processed as soon as the items are in stock, generally 2-3 weeks prior to the shipment date.
- Payment will be charged in either American Dollars (USD), Euros (EUR) or Japanese Yen (JPY) per your selection. Contact PayPal and/or your credit card company regarding currency exchange rates.
- You may be charged additional fees such as import tax when making an overseas purchase. Please consult your local customs office for more information.
- As outlined in the user guide, we do not accept cancellations. Please consider your purchase carefully before ordering.
- Should you have any questions, please contact customer support. English and Japanese support available.

* Please read the usage guide before purchase.
- A maximum of 3 of this product are available per person. Orders that include more than this limit will be cancelled.