GOODSMILE ONLINE SHOP Purchase Bonus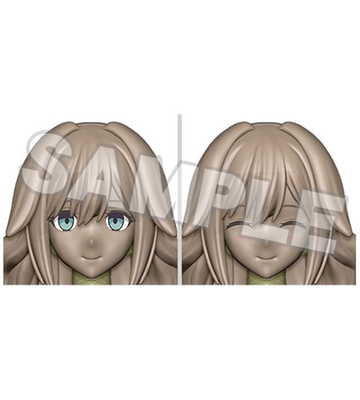 Preorders of PLAMAX GP-05 Guilty Princess Underwear Body Girl Jelly from the GOOD SMILE ONLINE SHOP will include a Miniature Decals as a bonus!
Product Details
Female Prisoner 102: Soft and Fluffy Powerhouse
From the "Guilty Princess" plastic model series by Tony x Max Factory comes Underwear Body Girl Jelly, a Battle Maiden who competes for power in an underground arena!
· The model is based on designs by Tony and created by Max Factory.
· This model kit makes use of snap-fit connections for easy assembly.
· A flexible plastic is used in specific areas, allowing proportions to be kept without compromising posability.
· Four pre-painted face plates including a standard face plate, a glaring face plate, a face plate with her tongue sticking out and a blushing face plate are included.
· A blank face plate and eye decals are included as well.
· Optional parts include a leg shackle and her flail, Jail Crusher.
· A metal chain to attach the shackle to the ball is included as well.
· In addition to the standard leg parts, bare leg parts and cross-legged parts are included.
· Three types of ball-jointed neck parts (4mm ball, 5mm ball, 6mm ball) are included for attaching various head parts, such as from other Maidroid plastic models or from the "GODZ ORDER" series.
· Hand parts are made from PVC.
· An articulated stand is included to display the plastic model in a variety of poses.
*PLAMAX Maidroid Chole is not included.
*Display with PLAMAX Underwear Body Girl Ran (sold separately).
©MAX FACTORY・Tony/Guilty Princess
Order Period
Preorders can be placed from 14th July 2022 (Thu) from 12:00pm JST until 18th August 2022 (Thu) at 12:00pm JST.

*Due to the limit to the amount of products that can be produced at our production facilities each month, a preorder limit has been placed on this item.
*Preorders for this item may close during the preorder period if the preorder limit is reached.
*In the event that the preorder limit is reached and preorders are closed during the preorder period, preorders may be opened again for an additional preorder period in order to accommodate demand. Products preordered during an additional preorder period will be produced following products made for the initial release, and as such will be released at a later date.
Price
- A maximum of 2 of this product are available per person. Orders that include more than this limit will be cancelled.
Specifications
Name
PLAMAX GP-05 Guilty Princess Underwear Body Girl Jelly
Release Date
Apr 2023
Announce Date
Jul 14, 2022
Manufacturer
Max Factory
Series
Guilty Princess
Product Type

Bonus Included
Cannot be Combined

Specifications
Ready-to-assemble non-scale plastic model kit. Approximately 160mm in height.
- In the event order limits have been met, the pre-order period will end before the closing date.
- Payment accepted via credit card and PayPal. Payment will be processed as soon as the items are in stock, generally 2-3 weeks prior to the shipment date.
- Payment will be charged in either American Dollars (USD), Euros (EUR) or Japanese Yen (JPY) per your selection. Contact PayPal and/or your credit card company regarding currency exchange rates.
- You may be charged additional fees such as import tax when making an overseas purchase. Please consult your local customs office for more information.
- As outlined in the user guide, we do not accept cancellations. Please consider your purchase carefully before ordering.
- Should you have any questions, please contact customer support. English and Japanese support available.

* Please read the usage guide before purchase.
- A maximum of 2 of this product are available per person. Orders that include more than this limit will be cancelled.