GOODSMILE ONLINE SHOP Purchase Bonus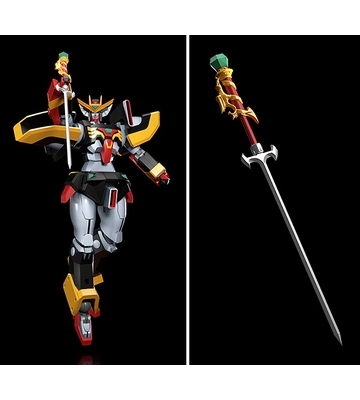 Preorders of MODEROID God Σ Gravion from the GOOD SMILE ONLINE SHOP will include a Divine Sword Balmung as a bonus!
Product Details
God Σ Gravion!
Onward to the Ultimate Combination...
From the anime series "Gravion Zwei" comes a plastic model of God Σ (Sigma) Gravion!
The Gran Σ, G Shadow, G Driller, G Striker and G Attacker can be combined with the use of interchangeable parts.
The core of the mecha, Gran Σ, is fully articulated, combinable and transformable. A non-transformable body part for displaying God Σ Gravion in combined form is included in order to make the model easier to move and display.
The Graviton Lancer is included along with interchangeable hand parts. The lancer can be displayed in either connected or separated form.
Combine the Gran Kaiser included with MODEROID God Gravion, the Sol Gran Divas included with Sol Σ Gravion and God Σ Gravion itself to create Ultimate Gravion! The "Super Heavy Sword of Censure" is included for display with Ultimate Gravion.

*Gran Σ and the Gran Divas are identical in form to those included with "MODEROID God Gravion" (sold separately) and "MODEROID Sol Σ Gravion" (sold separately) with some differences in color.
©大張正己・赤松和光・GONZO/グラヴィオンツヴァイ製作委員会
Order Period
Preorders can be placed from 22nd April 2022 (Fri) from 12:00pm JST until 16th June 2022 (Thu) at 12:00pm JST.
Price
- A maximum of 3 of this product are available per person. Orders that include more than this limit will be cancelled.
Specifications
Name
MODEROID God Σ Gravion
Release Date
Feb 2023
Announce Date
Apr 22, 2022
Manufacturer
Good Smile Company
Series
Gravion Zwei
Product Type

Bonus Included
Cannot be Combined

Specifications
Ready-to-assemble plastic model kit. Non-scale. Approx. 170mm in height.
- In the event order limits have been met, the pre-order period will end before the closing date.
- Payment accepted via credit card and PayPal. Payment will be processed as soon as the items are in stock, generally 2-3 weeks prior to the shipment date.
- Payment will be charged in either American Dollars (USD), Euros (EUR) or Japanese Yen (JPY) per your selection. Contact PayPal and/or your credit card company regarding currency exchange rates.
- You may be charged additional fees such as import tax when making an overseas purchase. Please consult your local customs office for more information.
- As outlined in the user guide, we do not accept cancellations. Please consider your purchase carefully before ordering.
- Should you have any questions, please contact customer support. English and Japanese support available.

* Please read the usage guide before purchase.
- A maximum of 3 of this product are available per person. Orders that include more than this limit will be cancelled.