GOODSMILE ONLINE SHOP Purchase Bonus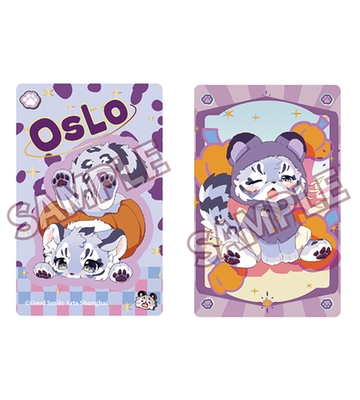 Preorders of Nendoroid Oslo from the GOOD SMILE ONLINE SHOP will include a PVC Card as a bonus!
Product Details
Please subscribe to Oslo's channel!
From Good Smile Arts Shanghai's original project "FLUFFY LAND" comes a Nendoroid of a new friend—the snow leopard Oslo!
Oslo is a big star in the forest and a charismatic influencer. Following a comical interaction with his own tail during a livestream, his popularity began to skyrocket.
--
The cheerful and energetic Oslo beyond the screen loves to relax and sleep in his warm and cozy home. The mysterious Oslo lives alone in the snowfields, but in the fall, early birds will often find his long, bushy tail and butt sticking up in the pumpkin patch.
He comes with three face plates including a smiling face, a winking face and a crying face. Optional parts include his pumpkin plushie Julliet, a fluffy tail part and droopy ear parts.
Be sure to add this adorable Snow Leopard to your home, and enjoy letting him play with River!
special Nendoroid parts set (Star & Heart Balloons + Hand Parts Set) will be attached as a bonus when purchasing during preorder dates. Click
here
for more details.
※[Nendoroid pre-order campaign] The exclusive parts is limited to customer who pro-order this item during below period.
©Good Smile Arts Shanghai
Order Period
Preorders can be placed from 9th August 2023 (Wed) from 12:00pm JST until 12th October 2023 (Thu) at 12:00pm JST.
Price
- A maximum of 3 of this product are available per person. Orders that include more than this limit will be cancelled.
Specifications
Name
【Preorder Campaign】Nendoroid Oslo
Release Date
May 2024
Announce Date
Aug 09, 2023
Manufacturer
Good Smile Arts Shanghai
Series
FLUFFY LAND
Product Type

Bonus Included
Cannot be Combined

Specifications
Painted plastic non-scale articulated figure with stand included. Approximately 100mm in height.
- In the event order limits have been met, the pre-order period will end before the closing date.
- Payment accepted via credit card and PayPal. Payment will be processed as soon as the items are in stock, generally 2-3 weeks prior to the shipment date.
- Payment will be charged in either American Dollars (USD), Euros (EUR) or Japanese Yen (JPY) per your selection. Contact PayPal and/or your credit card company regarding currency exchange rates.
- You may be charged additional fees such as import tax when making an overseas purchase. Please consult your local customs office for more information.
- As outlined in the user guide, we do not accept cancellations. Please consider your purchase carefully before ordering.
- Should you have any questions, please contact customer support. English and Japanese support available.

* Please read the usage guide before purchase.
- A maximum of 3 of this product are available per person. Orders that include more than this limit will be cancelled.