GOODSMILE ONLINE SHOP Purchase Bonus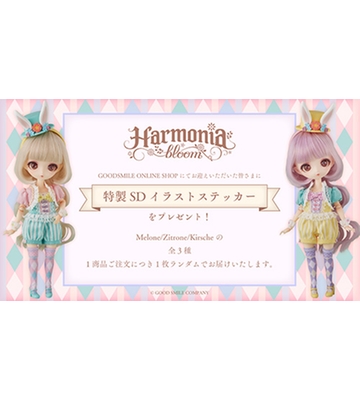 Preorders of Harmonia bloom Seasonal Doll Charlotte (Zitrone) from the GOOD SMILE ONLINE SHOP will include a Original Stickers as a bonus!
Product Details
The fourth doll in the Seasonal Doll Series is themed around the spring holiday of Easter.
The Harmonia bloom Seasonal Doll series features dolls themed around events and culture around the world.
The fourth doll in the series is themed after the springtime celebration of Easter. We present Charlotte, dressed in a cheerful costume fitting for the occasion.
The original outfit, produced by Rico* of vanilatte,features motifs of eggs and rabbits. Charlotte's makeup is designed by Renya of MUGUET, and features a gorgeous, yet delicate look.
The glass eyes made specially for Charlotte are made with colors pink and brown colors, while her gently wavy wig evokes an image of spring sunshine.
Her outfit also comes with an adorable pastel headband with rabbit ears as well as strap shoes that match her outfit.
Be sure to welcome this special doll that symbolizes a cheerful springtime celebration to your collection.
*Makeup and eyes are the same between the Melone and Zitrone variations of the doll.
Preorders from the GOODSMILE ONLINE SHOP and GOODSMILE ONLINE SHOP US will include a special sticker set.
Set Contents:
Doll
Glass eyes
Wig
Bolero
Overalls
Cuffs
Knee-high socks
Shoes
Headband
Interchangeable feet parts (flat)
Dedicated stand
Dedicated eye stick
Dedicated storage cover
Order Period
Preorders can be placed from 26th May 2023 (Fri) from 12:00pm JST until 6th July 2023 (Thu) at 12:00pm JST.
Price
- A maximum of 3 of this product are available per person. Orders that include more than this limit will be cancelled.
Specifications
Name
Harmonia bloom Seasonal Doll Charlotte (Zitrone)
Release Date
Mar 2024
Announce Date
May 26, 2023
Manufacturer
Good Smile Company
Series
Harmonia bloom
Product Type

Bonus Included
Cannot be Combined
Online Exclusive

Specifications
Painted non-scale articulated doll made with cloth, magnets, ABS and PVC with stand included. Approximately 230mm in height.
- In the event order limits have been met, the pre-order period will end before the closing date.
- Payment accepted via credit card and PayPal. Payment will be processed as soon as the items are in stock, generally 2-3 weeks prior to the shipment date.
- Payment will be charged in either American Dollars (USD), Euros (EUR) or Japanese Yen (JPY) per your selection. Contact PayPal and/or your credit card company regarding currency exchange rates.
- You may be charged additional fees such as import tax when making an overseas purchase. Please consult your local customs office for more information.
- As outlined in the user guide, we do not accept cancellations. Please consider your purchase carefully before ordering.
- Should you have any questions, please contact customer support. English and Japanese support available.

* Please read the usage guide before purchase.
- A maximum of 3 of this product are available per person. Orders that include more than this limit will be cancelled.